If you are using a software-firewall (Windows ships with one), you have to add an exception.
Shutdown7 can add itself to the list of exceptions (Windows firewall only).
Open the settings. Click on 'Firewall exception'. The exception is added automatically.
If you want to add the exception manually or the automatic way failed, do the following (on Windows 7):
Geben Sie im Startmenü-Suchfeld 'Firewall' ein.
Click on 'Windows-firewall with extended security'.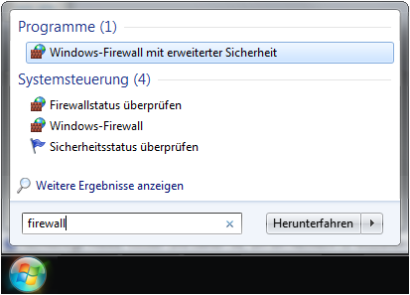 Click on 'Incomming rules'.
Click on the right on 'new rule'.
Click on 'Port' and 'Next'.
Type in the port number you are using in Shutdown7. Then click 'Next'.
Click 'Next' twice.
Type as name 'Shutdown7' and finish the assistant.




Close the window and test the connection with Shutdown7 (see below).